Blush Blush Blushing Bride!
Alistbeauty helps you find your shade of blush colour that looks the most natural on you is easy with this little trick.
Looking in a mirror and gently pull down your lower lip to view the inner lip colour.  Match the color you see along the inside of your lip to your blush colour and you have the perfect shade.
Sounds too simple, the color on the inside of your bottom lip is slightly different from the rest of your complexion, but still compliments it. For example, if you're on the fair side and your inner lip is pink, a similar shade of blush will work beautifully.
NARS POWDER BLUSH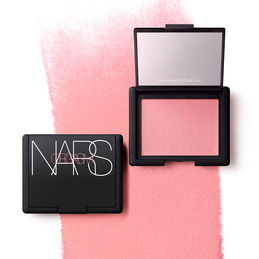 Hall of Fame winner  Orgasm is a blush shade that is one that flatters every skin tone. Fans rave about the coverage, which can be as light or as intense as you want.
CHANEL POWDER BLUSH
Beauty pros can't get enough of this. The baked-powder technology means this is the smoothest, silkiest blush around. It's available in an impressive array of 17  colour shades,allowing you to mix colors whenever you want to feel like a pro makeup artist yourself.