YOUR ALL A GLOW!
Ready to fall in love with glowing skin? Every bride wants to look her best on her big day, and the way to achieve that is to get started on the right skin care regimen months ahead of the wedding day. It's time to get serious about your skin care.
Here are some guide lines to add to your pre-wedding skin routine for glowing skin by the time you walk down the aisle.
Start a Beautiful Routine
Signs of aging can begin to appear as early as your 20s, and they're definitely apparent by your 30s. Always cleans and moisturize day and night. Use sunscreen and serum that offer a full range of protection and renewal for your skin and mask one a week.
Ole Henriksen cleansing and antiaging products helps skin to appear more youthful, supple, radiant, and healthy. African Red Tea Foaming Cleanser™ features botanical extracts to remove all impurities and makeup. Truth Serum® Collagen Booster is a daytime antiaging serum with five-source vitamin C complex to brighten and reduce the look of lines and wrinkles. Sheer Transformation® is a lightweight moisturizer with multi-fruit AHAs, plus licorice and sugar cane extracts to provide essential hydration and diminish the appearance of dark spots and sun damage. Invigorating Night Treatment™ creates the appearance of smoother texture and a more even skin-tone and minimizes the appearance of pores. Ultimate Lift Eye Gel™ Cools with bio-peptides, hyaluronic acid, and cucumber extracts.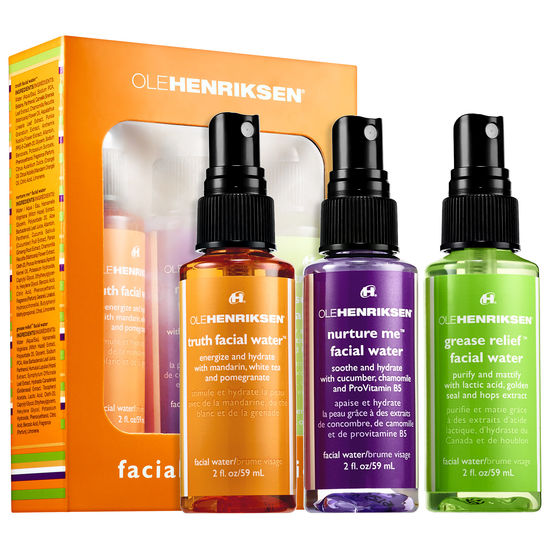 Exfoliate, Exfoliate, Exfoliate
Pretty much any skin concern, from dryness to dullness, to every acne bump in between, can be helped with exfoliating. Use an at home exfoliator, like GlamGlow with it's powerful and innovative multi-brightening complexes to help create the brightest, lightest, and most luminous skin possible. The TEAOXI® technology is white birch leaf that delivers natural betulin, betulinic acid, and ellagic acid to create an improved, color-balanced skintone. WhiteEnergy™ is a brilliant fusion of powerful natural actives to create intense, bright, and even results. Flashlucent™ is a combination of skin translucency optimizers featuring three levels of exfoliation to drive ingredients into the skin for a luminous, younger-looking complexion. Reflectrum™ is a blend of brightening ingredients boosted with diamond photoluminescence to increase the reflecting level of the skin and make it appear radiant and more attractive. It's designed for instant and extended results for men and women of all ages, skin types, and skintones.
Let the pros help with a microdermabrasion facial once a month can refine and remove dead skin cells for a deeper clean while reducing fine lines and uneven skin tone.
Target Dark Circles
Nothing ruins a photos quite like dark circles, and those shadows under your eyes can be the hardest of all eye-area woes to combat. The trick is finding an eye cream that targets puffiness and dark circles that will also offer deep hydration and helps minimize the appearance of wrinkles, which is a huge step toward making sure you're camera-ready. First Aid Beauty Eye Duty is a complete eye treatment that delivers instant visible brightening with serious long-term skin care benefits. It is packed with powerful ingredients—including retinyl palmitate and GABA—that support skin's natural collagen production to smooth away the look of fine lines and wrinkles. Coralline extract, caffeine, and licorice root work synergistically to soothe, minimize the appearance of dark circles, and reduce undereye puffiness. Offered in two universal shades suitable for a wide range of skintones, this formulation instantly brightens the entire eye area with its naturally sheer tint and light reflecting pigments. It has a unique stainless steel applicator that mimics the shape of the pinky, seamlessly blending the product into the delicate eye area while supporting natural microcirculation to relieve dark circles and puffiness. It will give you instant results, necessary hydration, and long-term antiaging benefits for a smoother, brighter, and more youthful-looking appearance.
Think Head-to-Toe
And lest you forget that more than just your face will be on display on the Big Day; it's time to add serious body hydration to your skin care routine. Experience Josie maran Whipped Argan Oil Body Butter and the replenishing bliss of Josie's signature ingredient—100 percent pure argan oil—whipped to indulgent perfection. This ultra-hydrating Body Butter features powerful ingredients like shea butter, white tea extract, and avocado oil to nourish and enrich skin with essential nutrients and antioxidants. The lightweight texture absorbs instantly and restores skin's softness and texture.An antioxidant-packed lotion like keeps skin hydrated for 24-hours (who has time to reapply lotion when you've got wedding day festivities to enjoy?).
Now let's add the glow Vita Liberata Self Tanning Anti Age Serum contains antiaging actives that firm and plump the look of skin while tanning it. It delivers a made-to-measure, natural-looking tan, reduces the appearance of fine lines and wrinkles, and conditions skin. Drop into your regular moisturizer or use alone as a primer serum applied straight to skin.
"I made tanning serum concentrate because I wanted a totally flexible, antiage option to achieve my healthiest glow! Use direct on skin to dial up the antiage benefits and depth of tan, or mix with your day cream for a bespoke subtle glow."—Alyson Hogg, Vita Liberata Founder
Vita Liberata Body Blur BB properties minimize blemishes, cover imperfections, and smooth skin appearance while reflecting light for a photo-ready skin finish. The natural-looking tint lifts your skintone, adding radiance and a healthy-looking glow that can be showered off when you choose. Great for use on the face and body, alone or under foundation as the ultimate makeup prep, it delivers a natural-looking, beautiful tan result.